Worx Robot Lawn Mower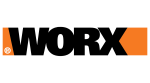 Worx is one of the well-known manufacturers of robot mowers, even though the company may not be as prominent as Gardena, for example. Nevertheless, this manufacturer also offers various models in its otherwise dominated range of electric and garden tools.

The portfolio of robot lawn mowers, always in the characteristic black-orange, has a lot to offer and covers properties of different sizes – not surprisingly. But the Worx Landroid robot mowers have an exciting feature to offer, which is currently not available from any other leading manufacturer: add-ons.
Thanks to these, you can customize the robot lawn mower and equip it with new functions. We'll tell you exactly what this brings and can do below. First, let's dive into the various models of Worx's robotic mower portfolio.
Top 3: The Best Robot Mowers from Worx 2023
Is there an official Worx robotic mower review?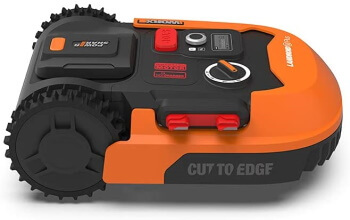 Yes, there is an official Worx robotic mower test. The German non-profit consumer organization "Stiftung Warentest" has already evaluated Worx robot mowers in two studies. However, in the robot mower test 04/2020, the Landroid M500 model could only rank at the bottom of the list.
The Worx Landroid M500 (WR141E) is designed for gardens up to 500 sqm, can handle slopes of up to 35%, and can be programmed via app control. Unlike other models, the Landroid M500 can be retrofitted with a modern ultrasonic sensor* for obstacle detection, which we strongly recommend to better protect hedgehogs, other animals, and humans from dangers or accidents. Unfortunately, the mowing results were only mediocre in the robot lawn mower test 2020 comparison.
In the following robot mower test 04/2022, Worx was able to improve and land in the middle of the field with the Landroid M700 Plus (WR167E). It is designed for gardens up to 700 sqm, can handle slopes of up to 35%, and can be controlled via app. However, programming is also easy without the app. The mowing results were rated the best among all models in the test. The Landroid M700 Plus can also handle wet grass and steep slopes. However, there are some safety issues, as with almost all models. A programming error with the stop button, which will most likely be fixed by a software update, unfortunately cost the Worx Landroid M700 the test win. Nevertheless, from our perspective, the Landroid M700 is a clear recommendation.
The Worx Landroid robotic lawn mowers compared
Below, we present the Landroid models from Worx. We proceed in order from the small S models to the large L models. We also address the differences between the various model types of a product line S, M, and L.
All Worx Landroid robot mowers up to 2023:
Worx Landroid M500 Plus (WR165E)*
Worx Landroid M700 (M WR142E)*
Worx Landroid M700 Plus (WR167E)*
Worx Landroid L800 (WR148E)*
Worx Landroid L1000 (L WR147E)*
Worx Landroid L1500 (L WR153E)*
Worx Landroid L2000 (L WR155E)*
» All Worx lawn robots at a glance*
The current Worx Landroid robotic lawn mowers
For the 2021 season, Worx has introduced some of their proven models as new editions. An overview can be found here*.
The Worx Landroid S Models
The Landroid S WR130E robotic lawn mower, also known as the Landroid S300, is the smallest model in Worx's "fleet". It is designed for lawns up to 300 sqm in size and is therefore especially suitable for small gardens, e.g., row houses. It is also currently the only one in the S series.
The cutting width of the Landroid S300 (S WR130E) is a manageable 18 cm, but is still 2 cm wider than the entry-level models from Gardena (SILENO city). The cutting height can also be adjusted here between 20 and 50 mm, which is an absolutely average range.
The three rotating cutting blades are powered by a brushless and sensorless motor, using the same technology found in electric cars. It operates at 65 dB(A) noise level, making it one of the louder robotic lawn mowers on the market. It can handle slopes up to 35 percent, which is an impressive value for a small entry-level model.
Although this is the smallest model of the Landroid robotic lawn mowers, it still has a lot to offer in terms of features. It is equipped with Artificial Intelligence Algorithm (AIA) technology, among other things. This ensures intelligent and efficient navigation. Thanks to this technology, it can easily maneuver through narrow passages. It doesn't even need a guide wire, as is the case with many other robotic lawn mowers. According to the manufacturer, it is also significantly faster than many other competitors.
This is because it intelligently turns every time it reaches the edge of the lawn, instead of blindly turning in another or new direction. This makes the Landroid models like the S300 also well suited for complex gardens with many narrow passages and obstacles.
The device also offers additional functions such as Smart Auto-Scheduling. You don't have to program the robotic lawn mower; it knows on its own when the perfect time to mow is. After the initial setup via the app or the LED display on the robotic lawn mower itself, the mower considers information such as the size and shape of your lawn, the type of grass, the composition of the soil, and the weather, using real-time values and cloud computing to ensure perfect mowing results.
The Cut-to-Edge function (more on this below) is not supported by the entry-level model, but it does have a rain sensor to stop mowing when it starts raining. It also has multi-zone management for multiple lawn areas.
The Landroid can also be kept up-to-date with automatic software updates (over-the-air or via the USB port). A PIN code, locking mechanism, and alarm sound protect it from thieves. It is also equipped with a lift sensor (for immediate blade stop when the robotic lawn mower is lifted) and a blockage sensor (prevents defects when there is an obstacle in the mower).
When the battery is low, it automatically returns to the charging dock. There, the 20V, 2.0 Ah capacity battery is automatically recharged via the charging port. One thing that's special about this is that it's positioned on the side of the Landroid models. It's also practical that Worx's robotic lawn mowers are equipped with the PowerShare battery platform.
This means that you can use the battery from the Landroid in many other Worx wireless devices, provided they support the PowerShare system. This allows you to save money and not have to buy a separate battery for each device. This applies not only to the small S300, but to all models.
The same is true for support of the Landroid app. With this, you can control all modern Worx robotic lawn mowers. It not only allows you to keep track of all important information about your Landroid, but also provides more convenience. You can simply send the robotic mower to work with a touch of the display. The free Landroid app is available for both iOS and Android, and thus for both leading smartphone and tablet operating systems.
The price for the 507 x 361 x 205 mm and 8 kg heavy Worx Landroid S WR130E (S300) robotic lawn mower is 749 euros MSRP. This makes it slightly cheaper than, for example, the entry-level SILENO city robotic lawn mower from Gardena, but overall, it is average for the cheapest models of various manufacturers.
The delivery of the Landroid S300 robotic lawn mower includes 100 m of perimeter wire and 130 pegs for attachment. In addition, connectors, replacement blades, and other Landroid accessories complete the well-stocked delivery. And as already mentioned, it can be individually adapted to your needs with the options presented below.
The Worx Landroid M models
The Worx mid-range consists of three M models. These are the Worx Landroid M WR141E (Worx M500) for lawn areas up to 500 sqm, the Worx Landroid M WR142E (M700) for up to 700 sqm, and the Worx Landroid M WR143E (M1000) for up to 1,000 sqm of lawn areas. This puts the models roughly in line with Gardena's SILENO life models.
In principle, the M models offer the same features as the small S300, but are sometimes even better equipped. This means that they have the intelligent AIA technology, which allows them to move intelligently through the garden and also know when the best time to mow is thanks to Smart Auto-Scheduling.
Thanks to Worx PowerShare, the battery (20 V and 2.0 Ah) of this Landroid is also versatile. We have already described these functions above, which is why we do not want to go into more detail.
Let's focus on the differences that distinguish the M models from the S-class. This does not apply to the cutting width, which is also 18 cm, but to the cutting height. Because although it also covers a range of 30 mm between the smallest and largest value, here it ranges from 30 to 60 mm. This means that the M models cannot mow the lawn quite as short as the S300, but this should not be a big problem.
One significant difference is that the Worx M-Landroids support the Cut to Edge function. Thanks to this, they mow as close to the edge of the lawn as possible, so that no uncut strip is left behind. This is quite a big advantage and can save you from having to do any hand-trimming. However, the Worx M500, M700, and M1000 models are all slightly louder than the S300, with a noise level of 67 dB(A). They are also a bit larger, with dimensions of 558 x 404 x 205 mm and a weight of 9.4 kg.
In addition to the same parts that come with all models, the package includes 130 m of perimeter wire and 180 stakes (M500), 150 m of perimeter wire and 210 stakes (M700), or 180 m of perimeter wire and 250 stakes (M1000). And of course, all of them can be customized with the add-ons presented below.
The Worx Landroid L models
The Landroid L models are essentially the flagship Worx robotic mowers. They are suitable for lawn areas up to 1,500 sqm for the Worx Landroid L WR153E (Landroid L1500) and up to 2,000 sqm for the Worx Landroid L WR155E (Landroid L2000).
The same features and functions are available on the Landroid L1500 and Landroid L2000 as on the M models. In addition to the basic equipment of the S300 with AIA technology, Smart Auto-Scheduling, and Worx PowerShare, Cut to Edge, which means cutting to the edge of the lawn, is also offered here.
Automatic updates (Over-the-Air/USB), lift sensor, blockage sensor, rain sensor, theft protection, and multi-zone management are also included. It can handle slopes of up to 35 percent.
The working width is different, however. It is not 18 cm, like the smaller S and M Landroids, but rather 22 cm. This is also good so that it doesn't take excessively long to mow large lawn areas. The cutting height can also be adjusted here (as with the Landroid M) between 30 and 60 mm. The operating noise level is 66 dB(A), so the Landroid L robotic mowers are not exactly quiet.
The off-road model Worx Landroid L1000 WR147E
The Worx Landroid L1000 WR147E is a special model in the Worx lineup, and can be considered the off-road model, having been updated in 2020. It is protected from water thanks to its IPX5 certification and has a weather-resistant construction that can be washed down with a garden hose, which is a particularly practical feature that sets it apart from Gardena's robot mowers.
It is similar in size to the Worx Landroid M WR143E, as it is designed for lawns up to 1,000 sqm, but it comes with some new features and developments that are not present in older Landroid models that did not receive a 2020 update.
The blades rotate forward and backward, reducing the blade wear and increasing the time between blade changes, resulting in lower maintenance expenses. Additionally, the blade disc is float-mounted, which compensates for uneven terrain and protects the mower from obstacles such as branches, ensuring an evenly cut lawn.
The cutting width of this model is 20 cm, which is less than the other L models, but more than that of the Landroid M. The cutting height is adjustable between 30 and 60 mm. The Worx Landroid L1000 WR147E also includes all the features of other models and is even quieter at 61.6 dB(A).
Older Worx robotic lawn mower
Older Worx robotic lawn mowers are still available on Amazon and other retailers, which are the predecessors of the current Landroid generation. The Worx Landroid M800i is especially noteworthy for lawn areas up to 800 sqm, while the Worx Landroid M1200i is suitable for lawns up to 1,200 sqm.
These Worx robot mowers also offer many features that the current generation has, such as AIA navigation technology for intelligent navigation even on intricate lawns, Wi-Fi connectivity with app control on your smartphone or tablet, multi-zone programming, and keyless programming. They also have a lawn edge mowing function and automatic return to the charging station.
However, the older Landroid models lack the connections for the additional modules introduced below, which are only supported by the new generation. This means that the older models lose the ability to be customized, which is one of the major advantages of the new Worx Landroid robot lawn mowers. Nevertheless, the older models are still worth considering because Worx already offered pretty good robot mowers with solid features at a lower price.
Additional modules for Worx Landroid robot mowers
Worx Landroid robot mowers are already well-equipped from the factory. They do their job and offer largely the same range of features as other manufacturers. But it can be expanded even further.
Because Worx offers a special system for its Landroid robot lawn mowers. They can be modularly expanded to adapt the range of functions to your needs as well as to your garden. Below, we introduce you to the various available modules that you can easily attach universally to the current Landroids and thus benefit from new features.
ACS – The Anti-Collision System
The abbreviation ACS stands for Anti-Collision System. With this add-on, you give your Worx Landroid robot mower essentially eyes. We mean that not only in a technical sense, but also visually. Because once you've installed this add-on on your Landroid, it looks a bit like two antennae sticking out of its body.
Thanks to the ultrasonic sensors and autopilot technology built into the anti-collision system, the robot lawn mower can detect obstacles and navigate around them. While a Landroid in its basic configuration can also do this, it requires contact. With ACS, you're able to protect your garden furniture, plants, and other obstacles as the mower can now detect them. Plus, you no longer need to use perimeter wire to secure them. This makes installation easier, especially if you have a lawn with many obstacles like play equipment and trees.
RadioLink – Wi-Fi for Smart Control
The new Landroid robot mowers can be connected to Wi-Fi right out of the box. However, the Wi-Fi reception is limited and most likely, few people have a Wi-Fi extender in their garden. That's where the RadioLink module comes in. It expands connectivity and ensures a constant connection even in larger gardens. The range is up to one kilometer, so even large gardens can easily be covered by RadioLink and keep the Landroid connected.
Off Limits – Restricting the Mowing Area
Are there areas in your garden that you don't want the robot mower to mow? These areas aren't fenced off with the main perimeter wire, and you would rather not bother doing so? Then the Off Limits add-on is the solution you're looking for.
This module consists of two parts. Firstly, a sensor is attached to the robot lawn mower, just like with the other optional add-ons we'll introduce to you gradually. The second part is a digital fence strip that you use to enclose or limit the forbidden areas. This additional perimeter wire doesn't need to be connected to the main wire and requires no power supply. Magnetism is the key to this solution. With Off Limits, it's easy to mark out areas around play equipment, bushes, and other obstacles so that your Landroid won't go near them.
Find My Landroid – GPS Tracking
With the Find My Landroid module, you can always locate your Landroid. It adds GPS and a mobile signal to the device. The mobile module uses 2G, NB-IoT (Internet of Things), and Cat. M1 technologies, which are specifically designed for IoT devices.
Thanks to the module, you can find the device even without Wi-Fi or RadioLink. This applies not only in the case of theft, but also if the Landroid is lost on a large property, and you can't find it. Another practical feature: Once the Landroid leaves a user-defined geo-fence area (e.g. in case of theft), you will be notified via the Landroid app.
High-Frequency Alarm as Theft Protection
This module is not yet available, but is expected to be released soon. The Worx High-Frequency Alarm secures the device and sounds an alarm in case of theft. If you want to know when this add-on will be available, you can check the Worx website and request a notification.
Voice Control – Extension for Voice Assistants
There used to be an add-on called Voice Control, but it is currently no longer advertised by Worx and cannot be found on their website. This is not surprising, though. Recently, Landroid robotic lawn mowers have become compatible with the two major voice assistants, Alexa and Google Assistant, allowing them to be voice-controlled through these leading systems. This is exactly what the old Voice Control module had enabled, but with its voice assistant. It is certainly smarter to rely on the more widespread solutions rather than creating a proprietary system.
» All Worx Landroid additional modules*
More accessories for the Worx Landroid robotic lawn mowers
In addition to these innovative add-ons, which allow you to customize the functionality of your Landroid according to your property and your desires, Worx also offers more traditional accessories. Some of these are already included with the delivery. Along with the robot itself, the package for Worx robotic lawn mowers includes several blades (spare blades are already included), the obligatory Li-ion battery, a charging station with power supply and fastening nails, as well as different lengths of boundary wire including fastening material in the form of pegs (Worx pegs). The length or number of pegs depends on the area covered, which we have already discussed when presenting each individual model.
Optionally, there are also more Landroid accessories available in stores. For instance, you can purchase additional pegs and boundary wire if the supplied wire is not sufficient for particularly complex lawn shapes or if you need to replace it due to defects after some time.
Furthermore, Worx offers other accessories. The off-road wheels are pretty cool, as they provide better traction on grass and difficult terrain. To clean and maintain the robot lawn mower thoroughly in between mowing sessions or after the season, Worx also offers a cleaning set for Landroid mowers. It contains various tools and aids for maintenance and cleaning. And of course, a garage for Landroid models is also part of the accessory range. For winter storage, there is also a storage bag available.
» Worx Landroid accessories overview*
FAQ – Common questions about Worx Landroid models
Which Worx Landroid is the best?
The most popular model of Worx currently is the
Worx Landroid S300
. It is suitable for lawn areas up to 300 sqm and is the affordable model.
How good are Worx robotic lawn mowers?
Worx robot mowers are among the bestsellers in the field of robotic lawn mowers and are mainly known for their affordable price and many options for expansion with additional features. However, in the
robot lawn mower
test conducted by German "Stiftung Warentest", the Worx model ranked low on the list.
With the Cut-to-Edge feature, Worx ensures that the cutting blades on its Landroid robotic lawn mower models are positioned directly at the perimeter wire, allowing for up to 2.5 cm of edge mowing.
Furthermore, there is a manual schedule option that allows users to select the Edge Cutting function, so the mower can also work on the edges upon its return to the docking station.
How much does a new Worx Landroid cost?
The Worx Landroid S300 is the lowest-priced model in the range, starting at around $550. The next size up, the Worx M500, costs approximately $650.
Which model is suitable for small gardens?
The Worx Landroid S300 robot lawn mower (S WR130E) is primarily suitable for small gardens up to 300 sqm and is the entry-level model from Worx. The Worx Landroid M500 robot lawn mower (M WR141E) is the next size up and is only slightly different in price.
Our conclusion on Worx Landroid robotic lawn mowers
With its add-on system, Worx offers a feature that no other manufacturer has in this form. This allows the basic models to be offered at a lower price, and interested customers can configure the functionality themselves.
Otherwise, Worx does not differ much from other well-known manufacturers. The company offers a broad portfolio from small gardens up to 300 sqm of lawn area to large gardens with 2,000 sqm of lawn. Prospective buyers with even larger gardens will not find what they are looking for at Worx, but they are likely to be quite rare anyway. For them, the high-priced portfolio of Husqvarna would be the right place to go.
---
---