Robot Lawn Mower Review: Official Test And Comparison Of Best Robot Mowers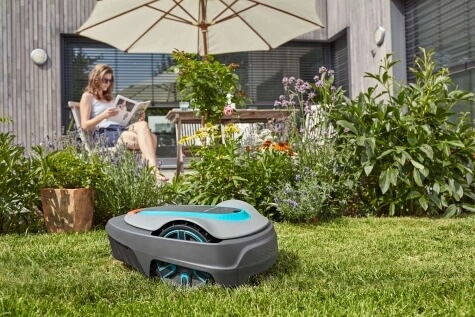 After the first official test and reviews of robot mowers conducted by German "Stiftung Warentest". This organization is a popular nonprofit consumer organization that conducts independent product testing and provides unbiased reviews and ratings on various consumer products and services. Several years ago, well-known models from Husqvarna, Bosch, Gardena, and others were examined and tested and rated again last year. We have reviewed the test report in detail, addressing all important questions about autonomous lawn mowers, and presenting the findings and test results from "Stiftung Warentest" in detail.
In the past year, there was a new official test of robotic lawn mowers by "Stiftung Warentest", which we would like to discuss here. There were concerns raised by the nonprofit consumer organization, especially around safety, as obstacle detection was often found to be not fully developed in the previous test. However, this is changing with the introduction of new generations of robot mowers. In this post, we will clarify what you should look for when buying a robot lawn mower and which models performed well in the review of lawn mower robots.
In the following overview, you can see the top models from the current robotic lawn mower review conducted by "Stiftung Warentest" at a glance. The first two robot mowers are high-priced models and may be difficult to find or unavailable. Therefore, we recommend models from Gardena, Worx, or Bosch.
For small gardens, the Gardena Sileno minimo is highly suitable, while according to the test, the Worx M700 Plus provides the best mowing performance and is highly recommended for larger gardens. Only due to a programming error with the stop button, which is likely to be resolved through a software update, the Worx model did not land in the first place.
The best models in the robot mower review 04/2022:
1. Husqvarna Automower 305
2. Stihl iMow RMI 422
3. Gardena Sileno minimo
4. Greenworks Optimow 4
5. Worx Landroid M700 Plus*
6. Bosch Indego S+ 500
7. Einhell Freelexo 500 BT
8. Robomow RT700
» Our recommendation: Gardena Sileno minimo*
Robot Mower Test: The Reviews Key Points
Last year, there was another robot mower test conducted by a reputable consumer organization. Popular models from well-known manufacturers were once again examined and evaluated. Eight robot mowers were included in the review, and safety issues were raised for almost all models, as has been the case in previous tests. Additionally, the mowing performance itself, including mowing speed and quality of the results, as well as the ease of installation, instructions, and programming with or without an app, were assessed.
The test area remained at 200 sqm and was equipped with obstacles such as trees and flower beds, as well as narrow passages and a maximum incline of 35%. The maximum mowing duration per day for the 200 sqm test area was set at 5 days per week.
The Husqvarna Automower 305 model performed well in the review, as it was able to handle large gardens and steep slopes without any issues. It worked quickly and smoothly without interruptions, and was even able to handle damp grass. However, this model was significantly pricier than other devices in the test and may be difficult to find at popular online retailers.
The Stihl iMow RMI 422 performed well again, but it is in a higher price range. It handles narrow passages and large gardens well in the review and impresses the testers even on damp grass. It required minimal cleaning during operation. Unlike other models, this model is programmed entirely without an app. However, it had issues on slopes and was stopped by the tilt sensor. Unfortunately, the fixed blade on the cutting deck poses a risk of serious injuries in case of accidents.
The Sileno minimo by Gardena improved significantly compared to the last robotic lawn mower review and secured the third place. It is reasonably priced and easily available. It required minimal cleaning during operation and is particularly quiet. However, it can only handle slopes of up to 25%, making it more suitable for flat gardens. It performed acceptably in terms of time for the test area, but should not be chosen too close to the limit in terms of area coverage. The Gardena Sileno minimo is available in two variants, one for gardens up to 250 sqm and the other for gardens up to a maximum of 500 sqm. However, programming this model without the accompanying app can be challenging.
In general, for all robot mowers
, the smaller the garden area in relation to the maximum area coverage of the mower, the faster it will complete the task, the lower the maintenance effort, and the better the cutting results tend to be. Additionally, nocturnal animals such as
hedgehogs
are protected from harm and danger during the evening hours.
Overall, the models scored no higher than a satisfactory rating, as safety remains a critical concern for all models. One model even received a poor rating and ended up in last place. Therefore, it is still important to interrupt the robot mower's operation when there are playing children or pets on the lawn. Only the Freelexo 500 BT model by Einhell did not damage the child-sized test dummy during the review.
Unfortunately, both this model and the Worx Landroid M700 Plus suffered from a programming error in the stop button, which resulted in lower ratings for both. In the case of Worx, it even cost the model the top spot in the test, as its overall mowing performance was the best. When the stop button was pressed, the model started again without manual intervention to adhere to the mowing schedule – a mistake that will likely be fixed through a software update soon. When it comes to more complex gardens and the associated higher time investment, only the models from Worx, Husqvarna, and Gardena were convincing.
During rain, the robot lawn mowers pause their work thanks to rain sensors and stay in the charging station. However, some models resume too quickly and start mowing again on wet grass, which leads to them quickly getting clogged and needing cleaning. The top three ranked devices from Husqvarna, Stihl, Gardena, as well as the models from Worx and Robomow performed well in this regard, requiring less frequent cleaning in the review. As for sensor technology, Worx stands out with an optional ultrasonic sensor* that provides additional safety in obstacle detection, which we strongly recommend at this point to protect animals such as hedgehogs and humans. It also reliably and timely avoids plants or wooden furniture without bumping into them, preventing damage.
In conclusion, based on the robot mower review, we recommend the Gardena Sileno minimo for small gardens and the Worx Landroid M700 Plus for larger gardens with steeper slopes. Both models, in our assessment, deserve top marks and have already convinced numerous customers. Deductions in the rating by "Stiftung Warentest" are due to safety issues, which, however, are common to most current robotic lawn mowers and are likely to be addressed through updates in the near future.
» Ideal for large gardens: Worx Landroid M700*
---
Which is the best robot lawn mower?
The question of which is the best robotic mower currently on the market is difficult to answer definitively, as the ideal robotic mower should align with your personal preferences and the specific conditions in your garden. When choosing the best robotic mower for you, it depends on factors like price, features, the size of your lawn, its slope, and overall garden layout.
Broadly speaking, there are two main classes of robotic mowers. First, there are the traditional models that operate with a boundary wire. This wire needs to be laid during installation, maintained over time, and possibly relocated if changes are made to the mowing area. The advantage here is that such models are generally more affordable and tend to be more reliable, though the differences between the two classes are becoming smaller. Most robotic mowers use this technology, especially in 2023. These are more suitable for smaller and uncomplicated gardens.
On the other hand, there's the class of smart perimeter wire free robot lawn mowers. These models typically use a combination of technically advanced wireless connections and/or camera and laser technology to detect their environment and mowing area. This relatively newer class of robot lawn mowers is gaining popularity, and the trend towards this class is becoming clearer. A reliable technology in this segment is RTK, an extension of GPS navigation that works very precisely under ideal conditions. The advantage here is that installation is quick and easy, and you can change the mowing area at any time. It can handle multiple separate lawn areas with ease, moving between them independently.
The downsides include a higher upfront cost and certain requirements in your garden related to GPS signal reception. Especially for larger gardens, the higher price can be justified, as it saves the cost and time of laying and maintaining a boundary wire. Based on our experience, one of the best robotic mowers in this class is the Mammotion Luba, which we closely examined in a test.
Previous robotic mower test and reviews
Automatic lawn mowing has many advantages. A total of eleven robot lawn mowers from well-known brands were tested by the consumer organization in 04/2020. None of these models, however, were specifically released for the current season, but rather from the previous year or older. Moreover, none of the tested lawn robots work with camera technology for obstacle detection, such as the Robomow RS635 Pro SV, or some models of the new generation without perimeter wire. Nevertheless, these robotic lawn mower models are still common in the market and the investigation is meaningful.
The technology in lawn mower robots has fundamentally changed little recently – they generally work reliably but have become more affordable. But what makes a good robot mower? Which models are suitable for small lawns? Is my garden even suitable for a robotic lawn mower? Answers can be found in the following sections. The comparison table below shows currently the best robot lawn mowers from the "Stiftung Warentest" review, including technical data.
Table: Results in the robot mower review (April 2020)
The following table, including technical data, shows the test results and the winners of the "Stiftung Warentest" investigation in April 2020 – the top three robot lawn mowers are officially recommended for small lawns up to 400 sqm. In addition to price, the recommended lawn area in sqm, slope percentage, and mowing speed are among the most important factors to consider when purchasing a robot mower.
What was rated in the robotic lawn mower test?
The advantages over conventional lawn mowers are clear, but time savings can quickly become a safety issue with the wrong model. In the 2020 "Stiftung Warentest" robotic lawn mower test, safety was therefore given high priority – two models failed and received poor ratings because they did not stop their blades when encountering an obstacle, posing a risk to small children. Manufacturers explicitly point this out in the descriptions of all products: children and animals should not be left unsupervised near a robotic lawn mower. While an automatically maintained lawn is a beautiful idea, responsible use must be ensured.
To minimize the risk to hedgehogs and other nocturnal animals, it is also advised not to push the device to its maximum performance. Otherwise, the robot mower would have to work until late in the evening to keep the lawn evenly trimmed. Based on our experience, the recommended lawn area is approximately one-third below the maximum performance – for example, 1000 sqm of lawn area is optimal if the manufacturer's maximum performance is indicated as 1500 sqm of lawn area. Stihl robot mowers are exemplary in this regard, as they work significantly faster than most other robotic mowers and are also suitable for medium-sized gardens or larger lawn areas.
In general, the following areas were examined and rated:
Mowing (weighted at 50%)
Noise (weighted at 10%)
Handling (weighted at 30%)
Safety (weighted at 10%)
Data transmission behavior (weighted at 0%)
According to "Stiftung Warentest", almost all models in the test scratched a wooden child's arm used as an obstacle. The two models that performed poorly were from Yard Force and Hellweg Wingart. However, there are also positive aspects: Many manufacturers have made technical advancements and improvements in safety for their models. For example, there are fewer gaps under the casing and deeper coverings have been installed to prevent obstacles from getting into the blades. The YardForce and Worx models also offer modern detection using ultrasonic sensors, but they still performed poorly in this review when it came to flat objects.
In addition to safety, the navigation of the models was also examined in this year's robot mower comparison, which performed suboptimally in earlier review and some models. However, the currently tested robot mowers navigated largely without problems, according to "Stiftung Warentest". They also handled uneven terrain well and left few unevenly mowed areas. Overall, even the more affordable models mowed the lawn well and satisfactorily. The test garden included 200 sqm of lawn and was equipped with trees, a terrace corner, and a narrow passage, creating realistic conditions. In general, robot lawn mowers are suitable for all gardens that meet the manufacturer's specifications regarding slope and area, and have a conventional layout.
What are the differences between the models?
At least when it comes to the perimeter wire, there are still no differences – while there are robot mowers without perimeter wire available (e.g. Ambrogio L60), it's not the case with most models. In complex gardens, laying the perimeter wire can take some time, but it's a one-time task that needs to be done during installation. For all models in this test, you need to lay a perimeter wire initially, although it may not always be included in the accessories when purchasing a robot lawn mower – so it's important to carefully check the description and contents of the package. The same applies to a garage for robot mowers. While not necessarily essential for operation, robotic lawn mower garages are often included in promotional offers and are generally popular.
The programming of different mowing zones for separate lawn areas, known as multi-zone capability of robotic mowers, makes a significant difference, as this option is usually reserved for higher-priced models. However, for complex gardens or those with multiple sections, this function is highly recommended. Setting up a robot mower with smartphone control is also much easier – there's no need to navigate through complicated menus on a small display. Smart robotic mowers can be found starting from a budget of $750 and upwards. In most cases, a robotic lawn mower works reliably without a smart gateway, and it can autonomously find the mowing area after proper installation.
"For complex gardens with many mowing areas, it's better to buy a robot mower that's slightly larger than needed so that it doesn't spend too much time mowing" – Stiftung Warentest 04/2020
Which robotic lawn mowers were tested?
The models tested conform to the standard at that time, even though they are not from 2020 or for the current season. Furthermore, no models were examined that use special technology and have significantly increased safety features, such as the Robomow RS635 Pro SV. A direct comparison would have been interesting here. In total, 11 models were examined, although some are no longer available or only available in a modified version – these were excluded (e.g. ALKO Robolinho). Surprisingly, the current market leader Gardena landed towards the bottom with their Sileno City 500 robot lawn mower, as the cutting result of the Gardena robot mower was not optimal, among other factors. For medium-sized gardens, we recommend the Stihl model, which was the fastest in this review. Below you will find a brief overview of the tested robot mowers.
Best-selling models in the robotic mower review 04/2020:
3. Stihl iMow RMI 422
4. Power-G Easymow 6 HD2
5. McCulloch ROB S600
9. Yard Force X50i
Excluding products that are no longer available or have been modified! (e.g. ALKO Robolinho)
Which models performed well?
In an initial safety test, unfortunately, all but one model ran over a wooden stick shaped like a child's arm and damaged it. Only the Power-G Easymow 6 HD prevented the worst from happening initially by providing additional protection through a series of black plastic teeth in front of the rotating blades – although there was an unprotected small area next to the wheels.
In a second test, where an attempt was made to reach under the robot mower, all but one model also performed poorly: Only the Yard Force model was unsuccessful. This test shows even more that no playing children or animals should be on the lawn when the robot mower is active for the tested models. According to current standards, an automatic lawn mower cannot provide reliable detection of obstacles and hazards.
Winner in the comparison: Bosch Indego S+ 400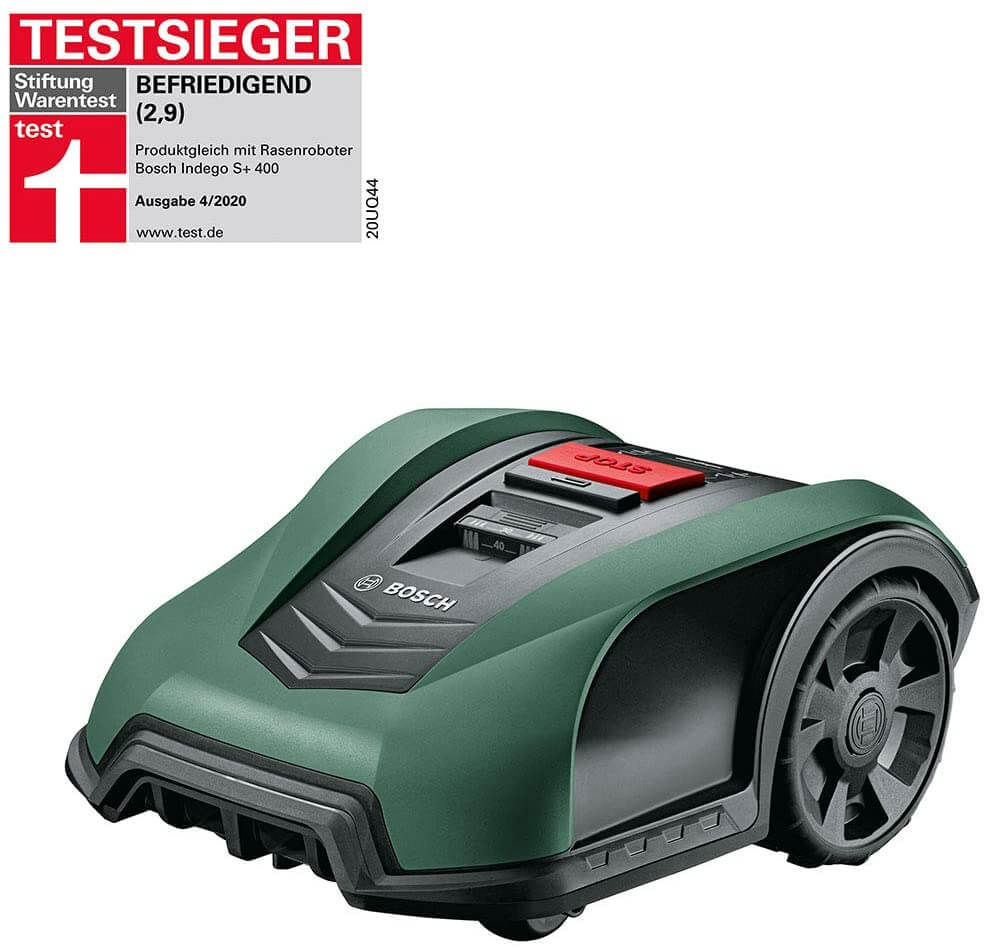 The Bosch Indego S+ 400 was the winner in the "Stiftung Warentest" 2020 rating, and it belongs to the current models of Bosch along with the nearly identical S+ 350 (lower area performance) and is ideal for small lawns. It is equipped with a rain sensor, among other features, and mainly differs in the mowing principle it uses. Bosch robot mowers work according to the LogiCut principle, which stands in contrast to the chaotic mowing principle and offers certain advantages. You can find out more about this in the Bosch manufacturer overview.
The Bosch Indego S+ 400 stood out in the test primarily due to its good cutting results, intuitive smartphone app, and, at least in this review, sufficient safety according to current standards. It falls into the price range typical for a smart robot mower and is, in our opinion, a clear recommendation.
Robotic Lawn Mower Test in April 2020: The Winners
The three models recommended by "Stiftung Warentest" are the Bosch Indego S+ 400, Husqvarna Automower 105, and Stihl iMow RMI 422, which also took the top spots in the robot mower test in 2020 and are therefore the winners. As mentioned before, all three models have mainly safety deficiencies and were therefore not awarded top marks. In addition, the data transmission behavior of the Bosch Indego S+ 400 was classified as "critical", which will hopefully be resolved through a future update.
The smallest Stihl model was also included in the test – "Stiftung Warentest" judged it to be expensive, but also noted that the work was done quickly, and it was well suited for complex or larger gardens. For the test garden with a lawn area of 200 sqm, the Stihl robot mower only took one hour, while the best-selling Gardena model took up to 6 hours. "Stiftung Warentest" was only moderately satisfied with the mowing result of the Gardena Smart Sileno City 500 and judged that it took a long time and the result was not convincing. The Worx Landroid M500 WR141E also performed only satisfactorily in mowing and, together with the Gardena Sileno robot lawn mower, was rated in the lower midfield in terms of quality.
In general, it is important to note that a robot mower designed for larger areas works faster and more efficiently than models with lower area performance. This protects nocturnal animals and reduces maintenance and care efforts.
Frequently Asked Questions – Robot Mower Review FAQ
⭐ Which robot mowers were tested by 'Stiftung Warentest'?
The 'Stiftung Warentest' (a popular German consumer electronics testing organization) tested popular robot mowers from leading brands such as Bosch, Husqvarna, or Stihl. We have highlighted the test winner and the individual models in our table for a closer look.
🏆 Which robot mowers are the best?
The currently best robot mowers in the test come from leading manufacturers such as Bosch, Husqvarna, and Stihl - you can find all the details in our table.
🔎 What was examined by 'Stiftung Warentest'?
Stiftung Warentest examined 11 robot mowers in their test, focusing on safety, mowing performance, noise level, general usability, and data transmission behavior. There were significant differences and improvement needs mainly in the area of safety.
💰 What does a good robot lawn mower cost?
The tested robot mower models range from $450 to $1200, with common and well-rated robot lawn mowers typically priced around $900 to $1000. Kindly note that prices of robot lawn mowers may vary depending on the brand, model, and features. It's recommended to compare different models and consider your individual requirements and budget.
❓ What are the differences between the models?
The tested robot lawn mower models mainly differ in terms of cutting performance, features, and safety aspects. Robot mowers in higher price ranges are often capable of handling different mowing zones and have better cutting performance.
Even for smaller lawns, this can be crucial, as higher cutting performance compared to the lawn area means the robot mower needs to mow less frequently, resulting in more reliable and better lawn maintenance. It also helps in preserving nocturnal wildlife.
🤔 Is a budget model worth it?
A budget entry-level device priced between $400-$650 may be suitable for simple or small gardens and seems financially attractive. However, the installation of the perimeter wire remains time-consuming, and a robot mower should be considered as a long-term investment. Therefore, we recommend opting for one of the reputable and proven manufacturers, considering warranty claims, service, and availability of accessories.
🛡️ What should be considered in terms of safety?
In the first robot lawn mower test, safety was primarily criticized, so it is important to strictly follow the manufacturer's guidelines when using a robot mower. Currently, not all robot mowers in 2023 are equipped with advanced camera systems that can reliably detect obstacles or dangerous situations, which is why users need to ensure responsible operation. However, some models have performed better in this aspect than others and were able to prevent accidents.
It will likely take a few more years until robot mowers can reliably detect obstacles and prevent dangerous situations through ground vibrations, thermal imaging cameras, and other sensors. Manufacturers are aware of these risks and are actively working on improving the technology. Currently, the first smart models of a new generation of robot mowers are entering the market, which are primarily characterized by significantly improved safety features.
Conclusion: How should the Stiftung Warentest review be interpreted?
The previous robot mower test conducted can be considered representative, although some newer models or those with a special focus on safety were unfortunately not included in the evaluation. Nevertheless, one thing is clear: even though "Stiftung Warentest" acknowledges improvements, robotic lawn mowers must not be used when there are small children or pets in the garden. As a responsible owner, this rule must be followed universally. Then nothing stands in the way of a perfectly maintained, automated lawn.
Even though many people already dream of the future, current technology, despite app control, is not designed to take this risk – after all, self-driving cars are still the exception. And even though such cars are already on the roads, it is strongly advised not to push the limits of technology and human supervision is always essential – the same applies to your garden and the current technology of lawn mower robots.
Certainly, there will be significant progress in the coming years, as experience values are always collected in addition to the technical foundation. Possible improvements could include enhanced ultrasound sensors or the aforementioned camera technology, such as simple thermal imaging cameras, which could prevent accidents. However, even before that, various sensors that can detect the slightest vibrations could ensure that the robot mower automatically withdraws or pauses for a certain period of time as soon as animals or people enter the lawn area. Many approaches are possible here, which need to be tested and experiences gathered by the manufacturers. Nevertheless, traditional lawn mowers have already become obsolete in many application areas. We are excited about innovations and will keep you updated!
Video: Robotic Mower Test & Experiences – Comparison of Various Lawn Mower Robots
PHA+PGlmcmFtZSB0aXRsZT0iWW91VHViZSB2aWRlbyBwbGF5ZXIiIHNyYz0iaHR0cHM6Ly93d3cueW91dHViZS1ub2Nvb2tpZS5jb20vZW1iZWQvVzJoN1ZYNTl5dEUiIHdpZHRoPSIxMDAlIiBoZWlnaHQ9IjUxNSIgZnJhbWVib3JkZXI9IjAiIGFsbG93ZnVsbHNjcmVlbj0iYWxsb3dmdWxsc2NyZWVuIj48L2lmcmFtZT48L3A+
Source: Stiftung Warentest